Meeting


diverse needs

ThreeBond has more than 1,600 products.
This number, 1,600, provides testament that ThreeBond has continued to meet the various needs of its customers.
Based on our "Customer First" policy, we contribute to the improvement of productivity and quality of our customers' products through our strength in product development and our domestic and international network.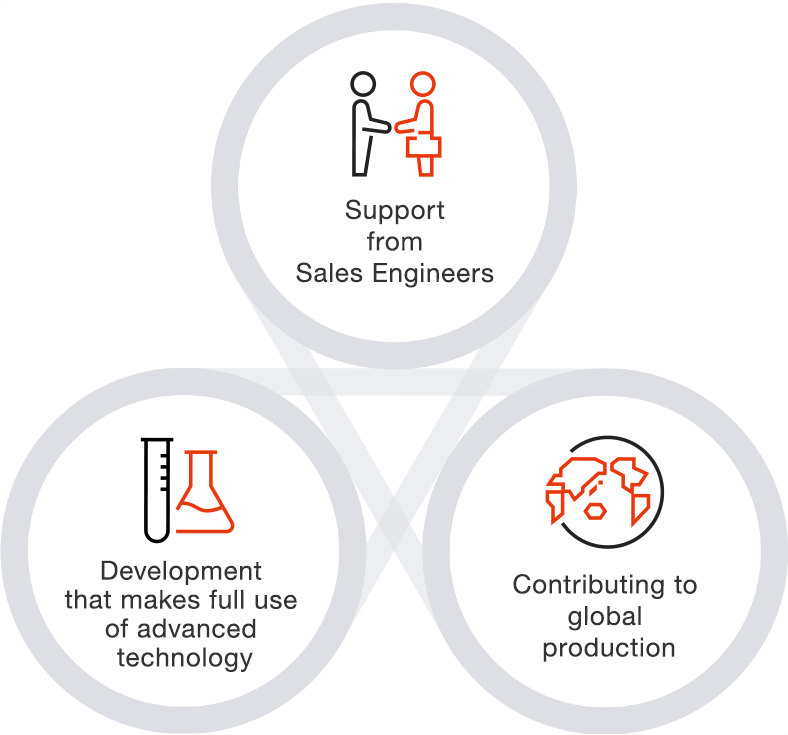 VOICE
Let us know
what you need
"I want to ensure the design of the product"

We will change the color of the adhesive to match the product so that the joints are not noticeable.

"I want to reduce costs"

Achieve cost reduction through products that utilize our own technology.

"I want to bond parts that get hot"

We propose heat-resistant adhesives that can be used according to the situation, such as electronic parts and in-vehicle parts.

"I want to bond parts that cannot be soldered"

We propose conductive adhesives that can be used for parts with low heat resistance such as resin.

"I want to optimize the adhesive capacity"

We will commercialize the product with the optimum capacity without waste for the customer.
ThreeBond Made to Order
Three Strengths
01.
Support from sales engineers
Our sales engineers, who have specialized knowledge and know-how regarding products, accurately grasp the issues and requests of our customers in product development and propose optimal solutions. Because ThreeBond has no barriers between sales and R&D, it is possible to solve problems quickly.
02.
Research and development that makes full use of technology
The basic stance of ThreeBond is to provide optimal products for our customers' technological innovation and production technology. Based on our track record of conducting research and development to add special functions in response to various needs, we provide products that capture technological trends and changes in each industry.
03.
Contributing to global production
ThreeBond has overseas bases in North and Central America, South America, Europe, Asia, China area, and South Korea, and has production plants in each region. We provide products to our customers through a high-quality and stable production system that utilizes our global network.
Cooperation between
four divisions
At ThreeBond, all divisions in Japan and overseas, from research and development to production, quality control, and sales, work together as a team to establish a system that can accurately respond to customers' requests.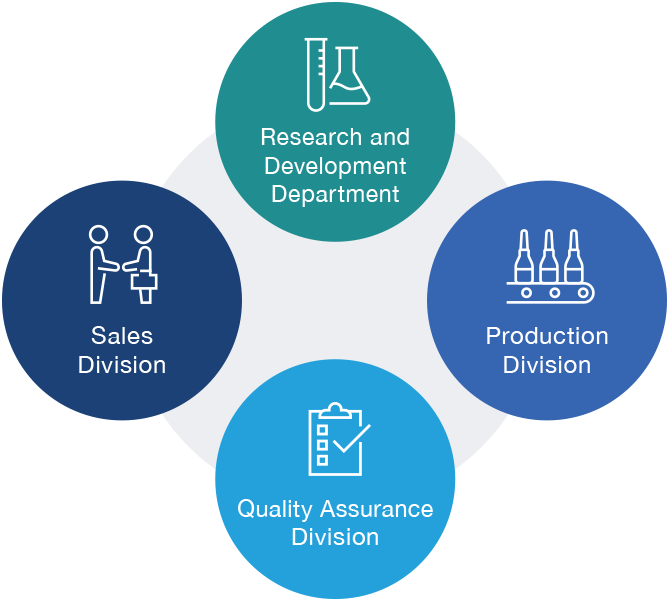 Steps to delivery
1

Discussion

Our sales engineers will listen to your issues and requests, and confirm the requirements for product development to solve them.

2

Product Planning

Based on the specific requirements confirmed through repeated meetings, we examine the product specifications and costs.

3

Research and Development

We carry out research and development of technologies and materials that are indispensable for realizing products that meet the needs of our customers.

4

Testing

In order to confirm that the performance of the developed products meet the standards and specifications required by the customer, tests are conducted by both ThreeBond and the customer

5

Production

Once the product is completed to the customer's satisfaction, it is manufactured under strict quality control at our own factories in Japan and overseas. We can flexibly respond to the deadlines required by our customers.

6

Delivery

From our three distribution centers in Tokyo, Nagoya, and Okayama, we can deliver to your designated destination quickly and safely.
※The sales engineers will explain the process in more detail at the meeting.
Frequently Asked Questions
Q

Are online meetings also possible?

A

Yes, they are possible. We will make arrangements based on your request. Firstly, please contact us using the inquiry form.
Q

What kind of information do you need when I want to inquire about products?

A

First of all, please tell us about the intended use and any required characteristics. Based on these details, our sales engineers will ascertain any further information necessary to initiate the made-to-order process.
Q

Is the made-to-order process available for just one product?

A

Firstly, please contact us using the inquiry form. If it is difficult to make, please be assured that we will select the most suitable product for you from our product lineup of more than 1,600 items.