3TS: ThreeBond Testing Standard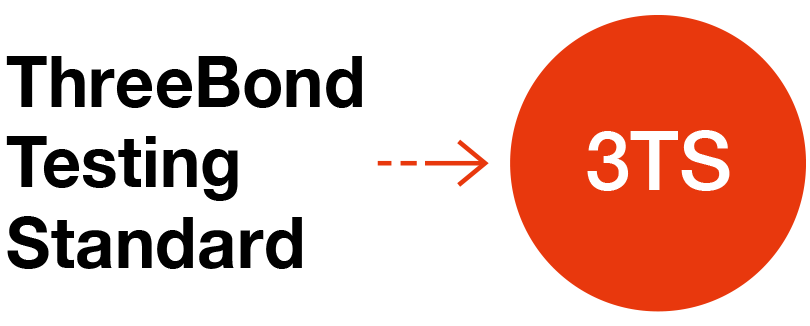 3TS is the ThreeBond Testing Standard developed in accordance with the international ISO standards, JIS*1 which is established based on the Japanese Industrial Standardization Act, and various other national and industrial standards from around the globe. In addition, in order to ensure the characteristics of the product, we have established a unique 3TS standard that is not covered in ISO*2 standards or JIS.
The standardization of test methods ensures the reproducibility and reliability of the data measured by the ThreeBond Group.
※

JIS: Japanese Industrial Standards

※

ISO: International Organization for Standardization
The 3TS number consists of a 4-digit number followed by a 3-digit number.
The 4-digit number indicates the test method classification, and the 3-digit number indicates the auxiliary number.

[Physical property measurement] Viscosity measurement 3TS-2F00-001, 002, 003
Explanation of viscosity measurement using a B-type viscometer
[Physical property measurement] Flow curve measurement 3TS-4200-001
Explanation of flow curve measurement using a rheometer
[Destructive testing] Tensile lap-shear strength test 3TS-4100-01□
Explanation of tensile lap-shear strength
[Destructive testing] T-peel test
3TS-4130-02□
Explanation of T-peel test method