ThreeBond's support
of social infrastructure
We continue to manufacture products that meet a wide range of needs that support the transportation market, electrical and electronic market, industrial materials and public works market that form the basis of the modern society, and the automotive aftermarket.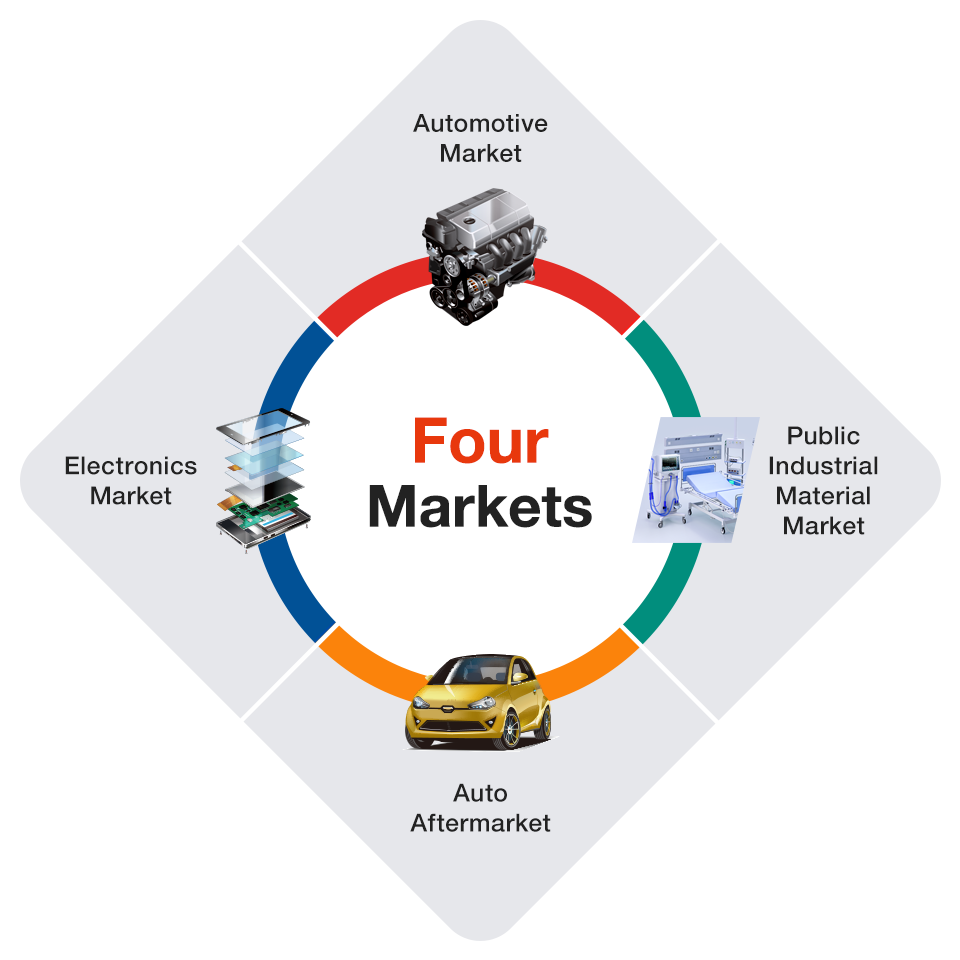 The automotive industry is undergoing a period of great change with the spread of electric vehicles and advancement of automatic driving technology. To align with the technological evolution of automobile parts, we have aggressively developed diverse products including not only sealants and adhesives but also coating agents, heat-dissipating agents, and potting agents. We will continue the challenges of meeting customers' needs so as to contribute to the future of the automotive industry.
There is also demand for high-performance sealants and adhesives that meet demand in cutting-edge manufacturing for smaller, thinner, and higher-function electronic products, along with adhesives with special functions including electrical conduction, heat dissipation, and vibration resistance. We respond to these needs that arise in products, such as in smartphones, wearable terminals, lithium-ion secondary batteries, cameras, and motors, with the development of advanced products that require high technology innovation. We open up a new world for the next-generation electrics and electronics market.
03.
Public Industrial Material Market
We have contributed to the manufacturing industry of the entire world by providing a wide range of products, from those medical, infrastructure-related, and construction-related, and for consumers, including sealants, UV-curable resins, instant adhesives, epoxy resins, and cleaners. In addition to our current line of products, which comply with all standards, we are currently working to develop products that comply with ISO 10993 (a biological evaluation for medical devices), environmentally friendly plant-based adhesives to stop making petroleum-based products, and products that satisfy the environmental regulations of each country.
In understanding the wishes of car owners to maintain their beloved cars' beautiful appearance even longer, we have extended our line of auto aftermarket products to the global level. We provide a wide range of products for the cosmetics and maintenance of automobiles, including coatings (for the body, interior, and the water repellency of window panes) and anti-corrosion agents for the car body (undercarriage), sold by car dealers. Including the highly functional and durable Ultra series, we have always fully utilized cutting-edge technology when sending products to the market.
Learn more about
ThreeBond