Generally, it is a fluidic substance at room temperature, and when applied to a joint surface, it dries or becomes uniform after a certain period of time, forming an elastic membrane or a thin adhesive layer. It allows joints to be comprehensively oil-tight, water-tight, and airtight, prevents leaks, and has a pressure-resistant function.
It is a liquid substance with a sealing effect that prevents the contents from leaking.
Features and expected effects of liquid gaskets from the viewpoint of materials
Demonstrates a sealing effect by itself, and a small amount of coating is OK → Reduction of gasket material cost
Effective on a surface even with relatively low tightening pressure → Reduction of part and material costs
Good compatibility with the flange surface → Reduction of processing man-hours and processing costs
No need for retightening → Simplification of work
Reduces preparatory work including material selection and calculation of thickness when compared to solid gaskets → Design time is shortened
Applicable to any shape or size of flange → Reduce time and cost for inventory control
Features and expected effects of liquid gaskets from the viewpoint of materials
Merits of installing a coating machine
Enables automation → Improves production capabilities
Consistent coating amount → Elimination of waste
Eliminates variations such as excessive or insufficient application → Stabilizes quality
Allows for reduction of the number of workers → Reduces labor costs
Introducing a coating machine
will have a greater effect on quality and productivity.
Various types of liquid gaskets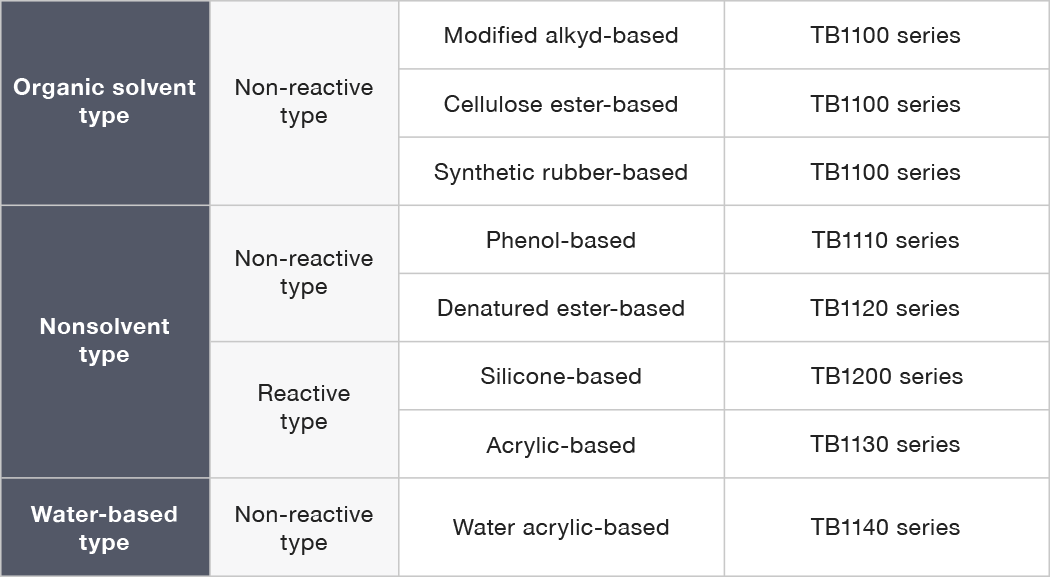 Curing method for silicone-based liquid gaskets
What are silicone-based liquid gaskets?
Most products are one-component gels that are dispensed from a tube or a cartridge, and cure by moisture in the air. Since they do not require special treatment such as heating or pressurization, anyone can use them easily.
Types of silicone-based liquid gaskets (ThreeBond1200 series)

The ThreeBond1200 series has a wide variety of products.
Mating surface of engine oil pan, chain case, etc.
Mating surface of transmissions (AT, CVT, MT) and differentials
Mating surface of water pump, etc.
Electric vehicle applications
Case seals for automotive electrical components
Sealing of various sensors
Mating surface of battery case
Q

What is the operating temperature range of silicone-based liquid gaskets?

A

As a guide, they can be used stably at -40 to 150°C.
In addition, they can be used up to about 200°C for short periods.
Q

There are various products, but I don't know which product number to choose.

A

Each product has a different sealing medium, and it is necessary to select the most suitable product, such as a product that is resistant to engine oil or a product number that is resistant to refrigerants, so please consult with our sales technicians prior to use.
Q

Is there a way to speed up curing?

A

Reactive types begin curing when they react with the humidity in the air, so please conduct curing in an environment where the temperature and humidity are properly maintained.

《The curing speed may slow down in the following environments therefore is not recommended》

In a high temperature environment (heating oven)
In water
Understand the characteristics of liquid gaskets and use them appropriately.
Pressure resistance varies depending on how clean the applied flange surface is (oily, watery, dusty, etc.).
For nonsolvent reactive types, it takes time to change from liquid to solid form so time management is required.
The removability of an adhesion type is not good.
Not very suitable for flanges with very large clearances (gaps)
It is necessary to use a liquid gasket of a type suitable for the medium to be sealed (oil, water, etc.).
Summary
This product was the starting point for the founding of ThreeBond, and is a liquid material that seals various flange surfaces.
After curing, it forms a rubber elastic body and exhibits excellent vibration resistance, impact resistance, and heat resistance.